Bathroom Tile Contractor in Tampa, FL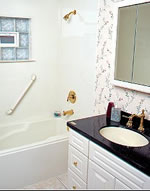 One of the most difficult decisions that face you when you are remodeling your bathroom is the design of the bathroom tiles in Tampa. Not only do you need to decide on the color and patterns on the tiles but you also have to consider how much of your bathroom you're going to cover with ceramic. There are so many different variations of all this that it can get pretty overwhelming.
Bathroom ceramic tile coverage
Ceramic tiles vary considerably in price and it's easy to limit the coverage in your bathroom if you think that it's going to be too expensive. I shopped around for tiles a lot and found a very reasonably priced line of ceramic tiles that were very similar to a lot of very expensive ceramic tiles that I'd seen. It definitely pays to spend time looking for the right tiles at the right price.

Because the ceramic tiles that I'd found were a good price I was able to afford to tile all the walls of my small bathroom from floor to ceiling which is what I'd set my heart on. I saved a little by not tiling the wall behind the bathtub that wasn't going to be seen. I'd looked at a lot of bathrooms by then and I knew that bathrooms that are tiled 100% look much nicer than those that aren't.
Our Tampa Bathroom Tile Services
Bathroom Tiles
Bathroom Tile
Bathroom Flooring
Flooring

Bathroom Remodeling
Bathroom Design
Tile Flooring
Bathroom Tile

Bathroom Floor
Bathroom Remodels
Bathroom Tile Floor
Ceramic Tiles
Why Tampa Should Hire Us for Bathroom Tiles
Our goal is to provide our clients with the professional guidance and design assistance necessary to deliver a bathroom that will provide value for years to come. When you hire us as your Tampa bathroom remodeling contractor, you will discover that the quality of our work and our commitment to excellence is second to none.
The Bath & Kitchen Gallery is Rated: 3 / 3
based on these 1 happy customer reviews.
---
"Please accept our sincere appreciation for the excellent performance by your team on our stunning new kitchen. A Florida bungalow built in 1925, our home had experienced a 50's renovation. The entire space had to be demolished back to the frame. Left intact were the beautiful double hung windows, arched doorway and vintage molding. Your project scope included all cabinetry, transforming the "nook" space into a booth area with storages eating, drywall, subway tiles on the walls and a travertine floor, electrical upgrade that included task lighting in the ceiling, plumbing, and replacement of trim to match the doorways and windows. Although we purchased the appliances separately, your crew installed them to the manufacturer's specifications. Your inventive approach and many useful suggestions proved invaluable during the design process. We appreciated the way you kept us aware of any unforeseen conditions discovered during the demo phase, as is often the case in older homes. The minor changes made necessary by these factors were quickly resolved to our mutual satisfaction. Everything was custom fit on site, completed as agreed and all debris removed. This was not a particularly easy task, since almost every opening was either out of plumb or irregular. We can't begin to tell you how many compliments we have received on your beautiful work. The concentration to detail you provided give our new kitchen an expansive, majestic appearance. Complimented by high ceilings, the open-faced overhead cabinets provide easy access to and visual display of, our collection of restaurant-ware serving pieces. The finished space was beyond our expectations, perfectly harmonizing the modern stainless appliances with the classic, timeless architecture of our period home. Thank you, and we look forward to working with you again, enlarging our bathroom and laundry area."

- Adolph & Cindy P Tampa, FL | Rated: 3 / 3
Recent Articles About Bathroom Tiles
If you are looking for Tampa bathroom tiles then please call 813.933.8000 or complete our online request form.